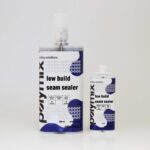 PL. 5003.050
PL. 5003.200
1,7 fl oz – 50ml
6,76 fl oz – 200ml
Grey/Ochre
Working time: 15 minutes
Painting time: 30 minutes
Two part urethane non-sag seam sealer duplicates a factory appearance on truck bed seams, tooled door skin seams, floor pan seams, core support seams. To be used to re-create the sprayed effect.